It's clear that many are surprised at the growth and implementation of FDMA systems internationally. FDMA outperforms in range, penetration and ease of use. It's surprising that many has not changed yet to the future of FDMA.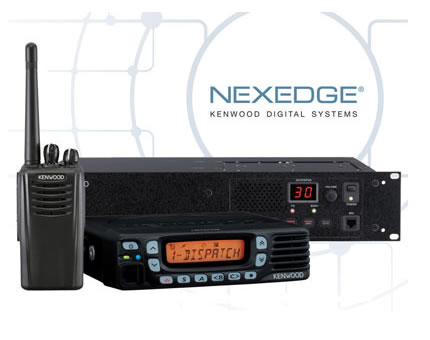 NEXEDGE® is Kenwood's innovative digital conventional and trunked radio system, designed to meet the highest demands of today's radio system environment and to provide users with a multitude of NEXEDGE®-abilities to transform their demanding daily operations.

Communications play a critical role in your ability to respond to and prepare for events from daily operations to critical incidents, and all at the fast pace of today's industries. To meet that pace, business, industry and public safety communications requirements have evolved from the basics of user-friendliness and ease of operation to the innovative features enabled by the latest digital technologies. For the first time in the history of the communications industry, you have a new kind of choice with NEXEDGE®. A choice that meets your basic of user-friendliness and ease of operation to the innovative features enabled by the latest digital technologies. For the first time in the history of the communications industry, you have a new kind of choice with NEXEDGE®. A choice that meets your basic needs and exceeds them with the power and versatility of NEXEDGE®-abilities. Each of these key digital abilities have been developed specifically to perfectly align with your requirements for a robust and versatile digital network.


General Advantages
• Emergency Call
• Man-Down
• Battery Status & low alert
• Over-the-Air Alias
• Late Entry
• Signal strength indicator
• Aspect of control – staff can't abuse the system compared to cellular
• Durable equipment compared to cellular
• Local representatives
• No long-distance fees
• Compliance with the Ontario hands-free driving laws
• Network is always expanding/upgrading/adding new features


Intelligible
Superior Audio Quality
Reliable
Fault Tolerant by Design
Flexible
Easy Configuration Changes
Scalable
Expands to Meet Your Requirements
Manageable
Fleet Management at Your Fingertips
Durable
Engineered to Meet Stringent Military Specifications


Outstanding Voice Quality
The AMBE+2™ Vocoder is a state-of-the-art voice compression digitization technology that offers superior clarity at varying signal strengths, even at highway speeds.


Secure Privacy
NEXEDGE® technology offers inherent security against casual electronic eavesdropping via its NXDN® digital air interface. It also includes NXDN® voice & data scrambling for security against external threats while providing confidentiality within the same system and talk group. Inter-network links are further secured through encrypted VPN tunnelling. Also NEXEDGE® multi-site network operators can automatically validate individual subscriber radio hardware by ESN (a unique factory-embedded Electronic Serial Number ) rather than hanging the system's unit and group ID lists in the event a unit is lost, stolen, or removed permanently or temporarily from service.


More Information in Less Time
All NEXEDGE® system operational modes – conventional, trunked and networked – share exceptional feature benefits. The 65,519 IDs for a conventional system and 60,000 IDs for a trunked system accommodate large fleet and multi-user shared systems for dispatch talk group calling and individual private unit-to-unit calling. Unit ID/Group ID validation facilitates subscriber access and call privileging. Paging reduces unnecessary voice traffic and each subscriber unit stores the last 5 pages for recall. Especially useful on mobiles, a voice storage option can be added for stored-voice message paging. Emergency features can alert a dispatcher, a supervisor or a whole talk group to a unit in distress. The All Group Call feature supports system/facility-wide general, emergency or evacuation communications. Also, NEXEDGE® original Over-the-Air Alias provides instant caller ID regardless of fleet programming. Remote Stun and Kill features temporarily or permanently disable lost or compromised subscriber units to prevent system interference, while Remote Check enables a dispatcher to make non-voice in-range subscriber unit checks. All subscribers have simultaneously voice and GPS capability for automatic fleet tracking.


Asset Management with ROI
The NEXEDGE® System Manager for NXDN® trunked sites and networks reduces operational and maintenance costs with remote programming, firmware uploading, subscriber unit privileging, monitoring and diagnostics capabilities all from a secure user-friendly Windows®-based application via direct connection.


The NXDN® Digital Advantage
In analog systems as the signal strength decreases in low-coverage areas, noise and dropouts increase, severely degrading intelligibility. However, with the NXDN® digital system, which features enhanced Forward Error Correction (FEC), the digitized audio stream is less susceptible to noise, resulting in superior clarity at varying signal strengths. System operators converting from analog to NEXEDGE® typically comment that users now receive calls in areas that were out of range before. NXDN® reduces lost or misinterpreted calls and the need for repeat calls, thus enhancing workforce productivity.


NXDN®
A key element of the NXDN® air interface is the AMBE+2™ vocoder which digitizes speech while retaining natural voice nuances, performs noise reduction, introduces FEC and compresses this voice data to accommodate land mobile radio data rates. Next, the radio's digital signal processor (DSP) protocol- packages the vocoder, signalling, control, and more FEC data together and converts this to a uniquely filtered 4-Level FSK digital waveform that modulates the transmitter. This results in an unusually low bit-error-rate digital air interface delivering robust communications even in weak signal strength areas. The NXDN® air interface is capable of fitting into both narrow 12.5 kHz and very narrow 6.25 kHz bandwidth channels meeting the tightest of spectrum efficiency requirements (9600 bps @ 8.3 kHz and 4800 bps @ 4 kHz occupied bandwidth respectively). NXDN® is a Frequency Division Multiple Access (FDMA) methodology whereby one user accesses a channel frequency at any one point in time (i.e. accesses via the frequency domain). Other digital methods such as Time Division Multiple Access (TDMA) permit more than one user to access the channel frequency via timeslots (i.e. accesses via the time domain), but there has to be a trade-off between coverage and effective transmission rate, as increasing the former means decreasing the latter.


Choose the Technology you can trust!